Big George & the Business: The Alleged Album
rare Limited Edition LP; CD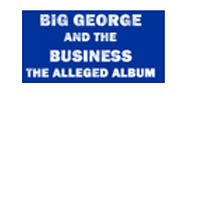 "...raw and down to the bone."

"George's legendary status in Glasgow was fueled by his debut album selling out in the first three days from when it hit the shops. The first thousand copies were snaffled up and the "Alleged Album" gained it's title as a result of the sold out bins..."
"...has the most unusual voice and he has the most incredible guitar style and feel, and when you combine these talents with a really good backing band in the form of Tam McLucas on bass and Greg Orr on drums, you have some serious blues/rock magic in the making! -- www.Dinosaurdays.co.za
NothinButDaBlues have created a new web page on Big George and the Business - take a look!
---
Limited issue items are short runs specially to satisfy demand - Order quickly while stocks last.
Track listing:
Long Black Train (Watt)
Thunderbolt (Watt)
Wrong Side of Town (Watt)
Late Last Night (Watt)
Rose's Home (Watt)
I Gotta Tell You (Watt)
The Storm (Watt)
Roll the Dice (Watt)
I'd Rather Go Blind (E. Jordan/B. Foster)