TRACTOR S/T (Ozit/Morpheus) CD £15.98
(Aquarius, 2003)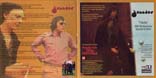 Tractor is the early 70s UK heavy folk-rock duo of Jim Milne and Steve Clayton, who made two classic albums - one record under the name The Way We Live, and this one as Tractor, which was originally released in 1972 on John Peel's Dandelion label. Here it's reissued on CD as a '30th Anniversary Special Edition'.

Probably the heavier of the two records, "Tractor" comes off like a combination of obscure UK folksters Tony, Caro & John (whose album reissue on Shadoks we recommended a few months ago) and heavy rock n' rollers Led Zeppelin or Budgie (or, to be obscure again, T2). Doomy fuzz guitars, conga drums, mystick lyrix, acoustic strum... This 'power duo' recorded in a bedroom studio but their sound is BIG.

Anyone into either kick-ass 70s psychedelic guitar heroics or epic blissful folksy melancholia, or *both* especially, should investigate. There's one goofy blues number, but that's more than made up for by the epic, fierce "Little Girl In Yellow", a heavy rock classic if there ever was one.