BBC Music - Review of Tractor 'Tractor' - 30th Anniversary edition - Ozit CD 217
Reviewer: Kathy Narayan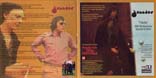 The original 1972 vinyl version of this album received much airplay, climbing to No. 19 on Kid Jensen's Hot Heavy 20 on Radio Luxembourg and No. 30 in Virgin Records' chart. 'Tractor', an original of which is highly collectable, has since been reissued twice and now makes a 30th anniversary appearance, this time with six bonus tracks.

It's an unpredictable and, at times, downright creepy affair. The weighty bass of the opener, ''All Ends Up'', pulls you straight down, before galloping drums and close harmonies lift and unsettle, leaving you with a feeling of vulnerability. Then that heavy, distorted bass kicks in again. We're on an emotional roller-coaster here, passing through the haunted house more than once!

The rest of the album unravels more melodically: Clayton's clattering cross-rhythms fill in cleverly around Milne's vocals. The production is basic and angry, with echoes of Zeppelin and Hawkwind, but the real beauty of Tractor is that, even with all this going on, they still deliver that mystical vibe.

Four of the six bonus tracks were recorded in 1973, as the label was on the verge of folding. ''Dandelion suggested we have a final fling in the studio'', recalls Milne. ''So, we took loads of songs with us, enough for another album, but work was very slow.''

There's also a live performance recorded at Glastonbury 2002 and a track featuring Hawkwind's Nik Turner on sax and flute. They're somewhat lighter than the rest of the album. Without them, 'Tractor' could leave you feeling a little anxious and exhausted. This is prog rock at its most jagged.