Billy Fury "Rarities And Teenage Jottings"
Ozit CD 223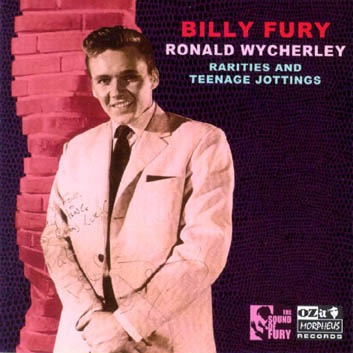 The title for this CD comes from the fact that, whilst Chris Hewitt, managing director of Ozit Morpheus Records and Billy Fury's mum and brother (Jean and Albert Wycherley - Albert being the sixties Joe Meek star "Jason Eddie") were clearing out Albert's garage a couple of months ago, they came across various suitcases that Billy had left with his mum and brother for safekeeping around 20-plus years ago. The contents of these cases revealed various reels of tape and also some exercise books and loose sheets of lined paper dating back to the late 1950s, containing rough drafts of Billy's songwriting written in pencil. The Rarities on the tapes and The Teenage Jottings in the notebooks form the basis of this CD of demos and alternate versions from Billy Fury [real name Ronald Wycherley]. The ten-page CD booklet shows some of the pages from Billy Fury's early songwriting notebooks.
There are 19 tracks, listed on the CD back inlay, and an extra two surprise tracks for fans, making 21 tracks in total. Of particular note is track 3 which is a mainly vocal and piano version of "God Created Woman" (just a hint of bass can be heard at some points in the song). This track is Billy Fury stripped back to basics, and one can see why he still is such a greatly respected artist and often given the accolade of Britains's first rock'n'roll star. A 7 ft. bronze statue of Billy Fury was unveiled in his home city of Liverpool last year, and a picture of this statue features in the CD booklet.

Deluxe edition (left), Regular edition (right)