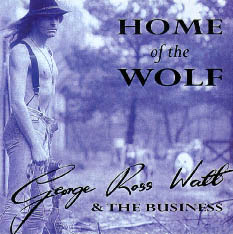 The third studio album from Scotland's/Glasgow legendary artist Big George.
George crafted his early guitar skills during his time with vocalist/bass player James Dewar (formerly bass player in Stone The Crows and The Robin Trower Band bass player and vocalist on 'Bridge of Sighs').
After moving on from the James Dewar Band, Big George formed Big George and the Business and has developed a style that ranges from a Hendrix workout (perhaps some of the Robin Trower influence passed on via James Dewar) through blues rock and on to some of the most emotional ballads about life ever written and performed.
The Home of the Wolf CD album sees George in the vein of Van Morrison at his best and most emotional, and advance reviewers have stated that is the album that is going to put Big George on the musical map and is a great album
Track Listing
1. 'Til the Sun Goes Down
2. Home of the Wolf
3. When the Gypsy Casts her Spell
4. Take a Walk in the Wilderness
5. Whiskey River
6. The Storm
7. Bob's Shop is Up for sale
8. Prayin' for Rain
9. Someone to Love You
10. Shooter Girl
11. Walkin' on Frozen Water
---
GEORGE ROSS WATT & THE BUSINESS
Home Of The Wolf
Ozit CD 0038
The third studio album from Glaswegian blues man, George Ross Watt, is a limited edition issue with 11 tracks and a wee 4-page booklet. But what the frugal packaging belies is a heavily talented guitarist/vocalist with a varied and creditable range of styles and influences. "Til The Sun Goes Down" is a cross between Muddy Waters and Robin Trower, with murky blues guitar and jaunty joanna backing. Amerindian chants permeate the Claptonish title track, and a couple of numbers rattle with Joe Cocker-like ardour. "The Storm" mixes Big Country with After Tea, and other tunes could be reflective Springsteen or Van Morrison. There are even hints of Wet Wet Wet singing-the-blues, which isn't as horrible as you might imagine! Finally, the raking "Prayin' For Rain" is a Billy Gibbons-style razzle-dazzler, with phlegmatic sax and driven vocal delivery. A fine crack.