Bickershaw Festival 1972 Volume 2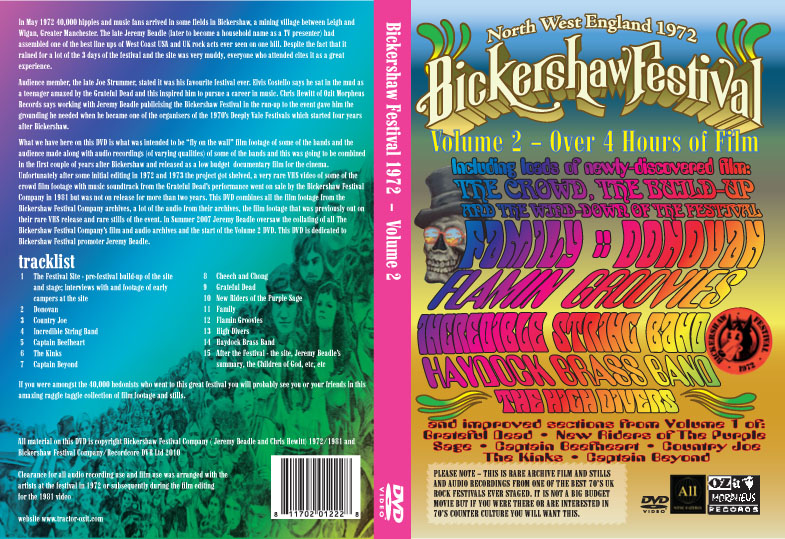 Ozit DVD 12
Over four hours of archive film and stills
Completely revamped version of the old Bickershaw DVD. There is now a lot of new archive film, stills and audio, making this new version over four hours long rather than one and a half. The original sections from the first DVD have been completely re - edited and appended - the only interview that stays from the first DVD is the Jerry Garcia one in the Grateful Dead section.
There is footage of artists on Volume 2 that wasn't included on the first one. There were only 2 great multi - day Greenfield Music Festivals with camping in North - West England in the '70s, Bickershaw and Deeply Vale.
The admission to Bickershaw, held on a fairly wet May weekend in 1972, was around £2.25 in advance for Friday, Saturday and Sunday. Around 40,000 people attended and the festival inspired many audience members to pursue careers in the music industry.
Order via this website and receive a set of 10 limited edition postcards!
Film Chapter Listing:
The people arrive in the days of the run up to the festival
Donovan
Country Joe
Incredible String Band
Captain Beefheart
The Kinks
Captain Beyond
Cheech & Chong
Grateful Dead
New Riders of The Purple Sage
Family
Flaming Groovies
High Divers
Haydock Brass Band
After The Festival
Audio Tracklisting (spread throughout the film; not all are complete tracks as some are used as background to crowd footage, etc.):
Grateful Dead - Going Down The Road Feelin' Bad
Incredible String Band - Adam & Eve
Captain Beyond - Lazy People
Captain Beyond - See Your Face Again
Kinks - Lola
Grateful Dead - Good Lovin'
Captain Beyond - Instrumental
Family - Donít Let Them Stand
Captain Beyond - Instrumental Lead
Family - As Sure as a Feelin' Tyne & Ware
New Riders of The Purple Sage - Willie & The Hand Jive
Kinks - Lola Reprise
Incredible String Band - Grandma Clears The Trash
Grateful Dead - One More Saturday Night
Donovan - You & I
Donovan - Yellow
Donovan - Some of Your Love
Donovan - The Ordinary Family
Donovan - Tired & Weary
Donovan - Try For The Sun
Country Joe - Sweet Lorraine
Country Joe - Entertainment Is My Business
Incredible String Band - This Moment
Incredible String Band - Weather The Storm
Incredible String Band - Country & Western Theme
Incredible String Band - Medley of Jigs
Captain Beefheart - Click Clack
Captain Beefheart - Spitball Scalped a Baby
Captain Beefheart - Bass & Drum solo
Captain Beefheart - Black Snake
Kinks - You Really Got Me
Kinks - All Day & All of The Night
Captain Beyond - Better Than Nothing
Captain Beyond - Spaced Out instrumental
Cheech & Chong - Funky Washington Rare Sketch
Grateful Dead - Jerry's Opinion
Grateful Dead - Me & My Baby
Grateful Dead - Ask Me For Mercy Askin' For Water
Grateful Dead - Cafes & Bars Black Throated Wind
Grateful Dead - While Mother America Cries
Grateful Dead - Plant Black Throated Wind
Grateful Dead - Next Time You See Me
Grateful Dead - Goin' Down The Line
Grateful Dead - Goodbye Tell The Sailors
Grateful Dead - March You Up & Down
New Riders of The Purple Sage - Sailing
New Riders of The Purple Sage - Contract
New Riders of The Purple Sage - Watcha Gonna Say
New Riders of The Purple Sage - Jam improvisation
Family - Wait There In The Distance
Family - Write & Yours & Mine
Family - Ships Set Sail
Family - Am On The Road
Flaming Groovies - Hurricane Jumpin' Jack Flash
Grateful Dead - Not Fade Away
Grateful Dead - Instrumental improvisation
Family - Good Times Bad Times
Family - Hey Now Easy Stars in My Eyes
Incredible String Band - Billy Go Store The Map
Haydock Brass Band - Stars & Stripes
Grateful Dead - She's Got Everything In Life
Grateful Dead - One More Saturday Night Car Radio
Grateful Dead - Sunshine Daydream