Billy Fury
"Wondrous Place Live, Plus Other Rare Live Songs And Early Studio Demos"
OZIT CD 0052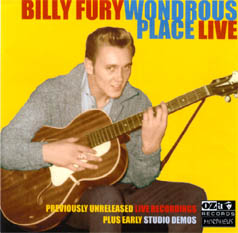 1. Sticks And Stones
2. In Thoughts Of You
3. A Wondrous Place
4. Thats Alright Mama
5. Halfway To Paradise
6. Like I've Never Been Gone
7. Unchain My Heart
8. Will You Still Love Me Tomorrow
All first eight tracks have been recorded live, followed by rare studio demos:
9. Well Alright
10. Cheating With Love
11. My Advice
12. Phone Call
13. Don't Say Its Over
14. Don't Tell Me Lies
15. I Know Its Love
16. I'm Left You're Right She's Gone
17. Have I Told You Lately
Featuring a 12-page full colour biographical booklet and double-sided back inlay and picture CD; many rare photos provided by Billy's mum and brother.