Tractor Music as an entity grew along with Deeply Vale, and in Rochdale Dave Edwards and the Kledjys brothers started to build speaker cabinets and also many Deeply Vale stalwarts were involved in the Festival stages that Tractor Music / Festival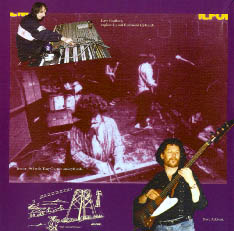 Services built up and down the country. Alexandra Park in Manchester played host to a large Anti-Nazi League/Rock Against Racism outdoor concert and Dave Smith, Dave Edwards, Dave Wimbush, Jim O'Neill and many more Deeply Vale stalwarts helped to put the festival area into being for Rock Against Racism.
During this period, Jim Milne, Steve Clayton and Dave Addison went their separate ways. With the advent of punk, they perhaps thought their band unfashionable, although they did appear on the Beggars Banquet 'Streets' album, as 'No More Rock'n'Roll' made the punk/indie singles chart. They came together again as a band in the early 80s, Jim Milne, Steve Clayton, Dave Addison (Chris Hewitt's cosmic idea - of course) and did a bit of recording with John Brierley now firmly established as a 'happening' 16-track studio - 'Cargo Studios', above Tractor Music's shop, just off Drake Street. During the 1980s, Jim and Steve were joined by various new members, Kieran (Leather Jacket) Miskella moving from road manager to replace Dave Addison on bass guitar, Tony Crabtree coming in on second guitar and keyboards and Dave Goldberg coming in on Hammond organ.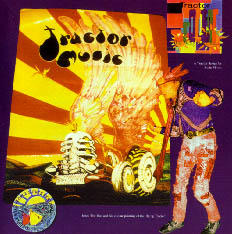 This album and in particular track 11 is dedicated to Andy Burgoyne who died on 8th October 1998 about 3 days after we had finished mixing this album. Thanks to Glenys and Jemma Burgoyne and Fiona for allowing us to issue Track 11 with Andy's voice on it.
Andy Burgoyne had been around The Way We Live and Tractor since the late sixties, when Chris (Sonny) Ryan (a close friend of Andy's) who was acting as manager/road manager for the band, first introduced him to Way We Live gigs at Rochdale's Theatre Workshop. Andy was at the Art College in Rochdale around the time Chris Hewitt was next door at the Technical College promoting gigs and Andy was to screen-print early posters. When Andy got into photography as well as screen printing, he became house photographer for Tractor Music. Tractor and Deeply Vale. Many photos of Tractor came out of the Peopleprint darkroom.
And so, as the Summer Solstice at Glastonbury, became over BP60 per ticket, and they put a wire fence around Stonehenge, we sat and wondered how we put over 51 bands on at Deeply Vale one year in the late 70s and all for free? How indoor gigs in Rochdale and Heywood, which were crammed full were about 30p admission and the bands got paid something too! Rock'n'Roll had become totally corporate in the 80s and the Deeply Vale spirit had been lost (or temporarily misplaced).