Bring What You Expect To Find
The Deeply Vale Festivals Of The 1970s 6CD Box Set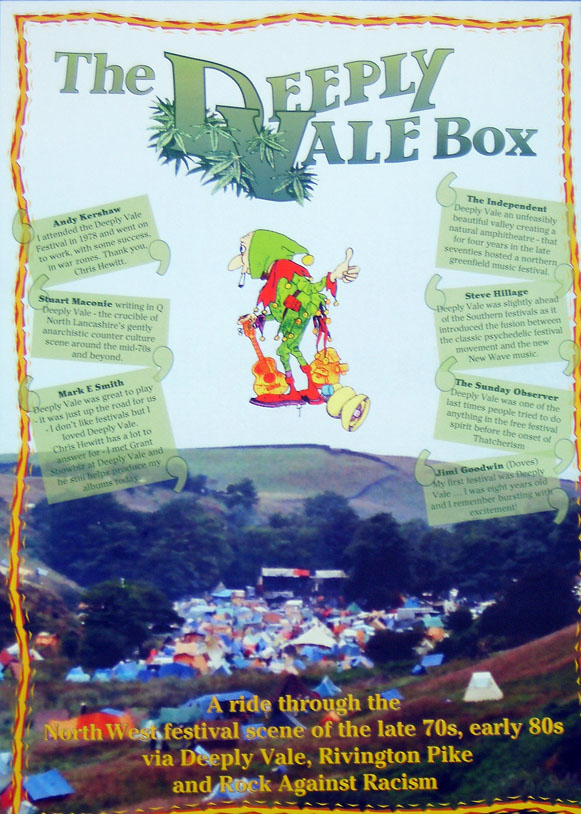 272-page A4 book + 6 CDs (and a pack of incense!)
Pre-released in limited run 17th October, 2014
Main release 1st December, 2014
Dandelion Records
Finally, after 18 years of research, The Deeply Vale Box Set will be released on 1st December, 2014. This beautiful box set will be limited to 500 worldwide - the 272-page A4 book is mainly colour and is housed in a box with 6 CDs and a pack of incense. Put on one of the CDs, open the book, light an incense stick to burn and transport yourself back to the mid-70s to early-80s Deeply Vale Festivals, as well as the Rivington Pike Festivals and the Manchester Rock Against Racism Concerts.

Deeply Vale was important as it was the first of the free festivals to open its stage to punk and new wave bands and it was also intertwined with the Manchester Rock Against Racism movement. Long before any other festival, it crossed the hippy-punk divide; it's where Planet Gong/Here And Now met The Fall and hippy soundman Grant Showbiz would strike up a 35-year relationship as producer for The Fall. Here And Now would take The Fall, Danny and the Dressmakers (including future 808 State man Graham Massey), Wilful Damage and Alternative TV on their anarchic tours after Deeply Vale. The Ruts were formed in a tent at Deeply Vale in 1977 after two members of London funk band Hit And Run saw The Drones perform a punk set on stage. The 1978 Festival not only included Steve Hillage, Here And Now and Nik Turner, but also The Fall, Durutti Column and The Ruts.

The book features interviews with and/or written contributions from Andy Kershaw, Stuart Maconie, Andy McCluskey of OMD, Martin Coogan and Steve Cowen of the Mock Turtles, Mark E. Smith of The Fall, Marc Riley, Spizz Energi, Boff Whalley from Chumbawamba, Graham Massey of 808 State, Vini Reilly, Graham Clark of Gong, Grant Showbiz, Steve Hillage, Jimi Goodwin (Doves), Ian Brown, Andy Rourke, Mark Hodkinson, Mick Middles, Luke Bainbridge and more.

Bands that have biographies/info pages in the book include Steve Hillage, The Fall, Wilful Damage, Mudanzas, Murmo Schultz, Aspell, No Change, Danny and The Dressmakers (including Graham Massey, 808 State), Aqua (including Graham Clark, Gong), Leviathan, Nik Turner, Visitor 2035, Whitefire, Durutti Column, Body, Physical Wrecks, Cry Tough, The Ruts, Drive By Night, China St, Fast Cars, Victim, The Trend, Picture Chords, Tony Crabtree, Trigger/Childs Play, John Keegan/Silver Hill String Band, Here And Now, SFW, Crispy Ambulance, Howard The Duck, Movement Banned, Alchemist, Trevor Hyett, Misty In Roots, Pete Farrow,Alternative TV, Tractor, Elti Fits, Free Ride, Bashful Alley, Drones, Accident On The East Lancs, Roll Up Rock, The Tunes, Victor Brox Blues Train, Rivington Spyke, Frogbox, Vibrant Thigh, Emergency/Foreign Press, Spike, The Out, Tiger Tails, Welcome, Snapper, Salford Jets, Bill Pod And The Stocks, Victor Drago, Notsensibles, Pegasus, Distractions, Stuffed Badgers and Konstipated Poodles.

Audio contributions for the six CDs include: Steve Hillage, Nik Turner's Sphynx, The Fall (unreleased tracks live at Deeply Vale), Visitor 2035, Danny And The Dressmakers (full sets from the festival includes Graham Massey, 808 State), Aqua, Here And Now, Wilful Damage, The Ruts, SFW, Salford Jets, Victim, Free Ride, Durutti Column, Brenda And The Hot Dicks, Red Eyes, Aspell, Andy T, Blue Midnight featuring Grant Showbiz, George Borowski, Tony Crabtree, Accident On The East Lancs, Victor Brox Blues Train, Howard The Duck, Rockslide (forerunner of the Drones) Movement Banned, Elti Fits, The Tunes, Trevor Hyett, Whitefire, Victor Drago, The Trend, Drive By Night, The Out, Fast Cars, Mudanzas, Vibrant Thigh, Notsensibles, Stuffed Badgers, Rivington Spyke, No Change, No Mystery, Murmo Schultz, Bill Pod And The Stocks, Trevor Hyett, Alchemist, The Joint Rolling Contest and John Keegan.

Andy McCluskey, OMD: "I performed there with my early band Pegasus in 1977, there was a real all-help-together hippy vibe, which was wonderful."

Luke Bainbridge "Most of those who were there seem to have slightly hazy memories of events… but others like myself were inquisitive five-year olds taken to this otherworldly place on our doorstep!"

Boff Whalley, Chumbawamba: "Deeply Vale was my first exposure to festivals. Deeply Vale was both a summer escape and an eye opener. A great place for growing up!"

Bob Harris: "Deeply Vale definitely has a place in rock history, because here in the late 70s were held the best-loved and silliest rock festivals of all time!"

Jimi Goodwin (Doves): "My first festival was Deeply Vale, I was eight years old. I was bursting with excitement!"

Graham Massey (808 State): "I am always harking back to Deeply Vale as a blueprint for festivals."

Andy Rourke (Smiths): "Deeply Vale - it was such a great vibe!"

Mark Hodkinson (author and broadcaster): "Growing up in Rochdale in the 70s you soon became familiar with the words Deeply Vale and they do suggest something beautiful and cool, don't they!"

Andy Kershaw: "I attended the Deeply Vale Festival in 1978 and went on to work with some success in war zones - thank you, Chris Hewitt!"

Stuart Maconie: "Deeply Vale - the crucible of North Lancashire's anarchistic counterculture around the mid-70s and beyond."

Mark E. Smith: "Deeply Vale was great to play. It was just up the road for us. I don't like festivals, but I loved Deeply Vale!"
Track Listing
Disc 1:
1. Killer Man Giro - Deeply Vale (music by Foggy/words by Hovis B. Reading)
2. Luke Bainbridge (Observer Music Monthly/The Guardian) - Memories, recorded 2005 (he was 5 in 1978), plus The Joint Rolling Contest (featuring Eddie Klejdys)
3. Murmo Schulze - Our First Number - Live At Deeply Vale
4. The Tunes - In The Car - Live At Deeply Vale
5. Ruts - It Was Cold - Live At Deeply Vale
6. Blue Midnight - Before (featuring Grant Showbiz)
7. Body - Andromeda - Live At Deeply Vale
8. The Out - Hearsay
9. Aqua - Human Zoo - Live At Deeply Vale 1978, featuring Graham Massey (later of 808 State), Graham Clark (later of Magick Brothers), Colin Seddon
10. Free Ride - Funk 99
11. Victim - Why Are Fire Engines Red?
12. Fast Cars - Images - Live At Deeply Vale
13. Tractor - Roll The Dice
14. The Fall - Bingo Master's Break Out (Live At Deeply Vale, previously unreleased)
15. Stuffed Badgers - Gassing Badgers
16. Visitor 2035 - Toefunk - Live At Deeply Vale
17. Tony Crabtree - The Banks Of Pontrathrain

Disc 2:
1. Mudanzas - Ebow
2. George Borowski - She Finds Me
Danny & The Dressmakers (including Graham Massey, 808 State) - Live At Deeply Vale - full Set from 24th July 1978:
3. Danny & The Dressmakers - Ernie Bishop's Dead Body
4. Danny & The Dressmakers - What Are We Doing On At A Rock Festival?
5. Danny & The Dressmakers - How Hot Is A Match?
6. Danny & The Dressmakers - Johnny Be Really Fucking Good

7. Here & Now - Strawberry - Live At Deeply Vale
8. Victor Brox Blues Train - Run You Off The Hill
9. Accident On The East Lancs - We Want It Legalised
10. Elti-fits - 30 Miles Per Hour In A Built Up Zone
11. Deeply Vale advance Piccadilly Radio Interview 1978 Part 1
12. Steve Hillage - Getting Better - Live At Deeply Vale
13. The David Bacha Band - What You See Is What You Get (Foggy's Beautiful Friday Night Remix)
14. Pete Farrow - Candy Man
15. Trevor Hyett - You Just Can't Make It
16. Victor Brox Blues Train - Sister Kate (Dave Lunt - bass, Lol Coxhill - soprano sax, Joe Silmon - clarinet, Dave Hassell - drums)
17. Howard The Duck - Too Late To Dance - Live At Deeply Vale
18. Victor Drago - Black Leather/Play With Fire

Disc 3:
1. Visitor 2035 - Moving In The Direction Of Love - Live At Deeply Vale
2. Tony Crabtree - Little Wing
3. Rivington Spyke (poet) - Untitled - Live At Deeply Vale
4. No Change - Ruin - Live At Deeply Vale
5. Here & Now - My Band's Better Than Your Bong - Live At Deeply Vale
6. Drive By Night - Time
7. Nik Turner's Sphinx - The Awakening/Pyramid Spell - Live At Deeply Vale
8. Drive By Night - Look Out
9. Grant Showbiz & Blue Midnight - Goodnight
10. Pete Farrow - Daydreamer
11. John Keegan - Yearning For The Human Race To Run
12. The Fall - Brand New Cadillac - Live At Deeply Vale
13. No Change - Lament - Live At Deeply Vale
14. Rockslide (forerunner of the Drones) - Hard On Me - Live At Deeply Vale 1976
15. Murmo Schulz - The Death Pulse - Live At Deeply Vale
16. Bill Pod & The Stocks - Funky Mungbean

Disc 4:
1. Accident On The East Lancs - Wasted
2. John Keegan - Me & The Green Machine
3. Deeply Vale 1978 Piccadilly Radio Interview Part 2
4. Ruts - SUS - Live At Deeply Vale
5. Elti-fits - Letterbox - Live At Deeply Vale
6. Fast Cars - Who Loves Jimmy Anderton - Live At Deeply Vale
7. Howard The Duck - You Know Me - Live At Deeply Vale
8. Durutti Column - Boxes - Live At Deeply Vale 1978
9. Aspell - Damson - Live At Deeply Vale
10. The Tunes - Untitled - Live At Deeply Vale
11. Body - Death To Those Who Believe In It - Live At Deeply Vale 1978
12. SFW - True Life
13. Here & Now - Hairy Barber - Live At Deeply Vale
14. Not Sensibles - I Am The Bishop
15. Tractor - Lost On The Ocean
16. Vibrant Thigh - Walking Away

Disc 5:
1. Pete Farrow - Underwater Guitarist
2. Elti-fits - Tony Wilson - Live At Deeply Vale
3. Trevor Hyett - There's No Such Thing As Too Much Fun
4. Steve Hillage - U.F.B. - Live At Deeply Vale
5. Dr. Fogg's Mistik Misfits - Valley Of Dreams (Improvisation)
6. Ruts - Jah Wars - Live At Deeply Vale
7. Andy T - Bring What You Expect To Find
8. Nik Turner's Sphinx - God Rock - Live At Deeply Vale
9. Deeply Vale 1977 BBC Radio Interview - at a garden in Cumberland Road, Rochdale
10. Fast Cars - Tameside Girls - Live At Deeply Vale

Wilful Damage - Full Set - Live At Deeply Vale 25th July 1978:
11. Wilful Damage - Living In A Prison
12. Wilful Damage - Proton Neutraliser
13. Wilful Damage - I'm Scared
14. Wilful Damage - Peace & Life
15. Wilful Damage - Vandals
16. Wilful Damage - Encore (featuring Eddie Kledjys)

17. Bill Normal on banjo - My Father's Woolly - Live At Deeply Vale
18. The Young Banjo Player - Leaning On A Lampost - Live At Deeply Vale
19. Movement Banned (including Mick Spratt from Wigwam/Rev. Mike Huck) Bartimaes - Live At Deeply Vale

Disc 6:
1. Tractor - Revolution Man
2. John Keegan - White Sand
3. Red Eyes - Deeply 96 - San Hose
4. Brenda and the Hot Dicks - Bored - Live At Deeply Vale
5. Tony Crabtree - Needle Of Death
6. Durutti Column - Halitosis - Live At Deeply Vale
7. No Mystery - Big Boss Man (Victor Brox - keyboards, Norman Beaker - guitar, Tim Franks - drums, Dave Lunt - bass, Dick Heckstall-Smith - sax, Albie Donnelly - sax)
8. Whitefire - Jam Improv
9. Bob Jones - Near Enough For Jazz!!! - Live At Deeply Vale
10. The Trend - That's The Way The Cookie Crumbles - Live At Deeply Vale
11. Salford Jets - Pretty Babe
12. Salford Jets - Cadillac/Slight Return
13. Brian Eastwood and Tom Winstanley - Deeply Vale
14. Aspell - Raspberry - Live At Deeply Vale
15. Tractor - Bring What You Expect To Find
16. Durutti Column - I Like It/I Hate It - Live At Deeply Vale
17. Danny & The Dressmakers - Alfie Wimbush - Live At Deeply Vale
18. Danny & The Dressmakers - I Hate Julia - Live At Deeply Vale
19. Danny & The Dressmakers - Ernie Bishops Dead Body (Slight Return) - Live At Deeply Vale
20. Danny & The Dressmakers - Dynamite - Live At Deeply Vale
21. Alchemist - Rock Boogie