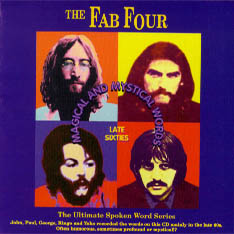 Over 34 minutes of the best spoken word recordings of The Fab Four (Beatles), 'Magical And Mystical Words - Late Sixties' roughly covers the five years between the making of the film/album, 'Help', in 1965 and the completion of the flim, 'The Magic Christian' (1970, which starred Peter Sellers and Ringo Starr). This album contains smatterings of whimsy delivered by the four personalities which made The Beatles unique.
Combining a mixture of the surreal, the absurd, the jovial, the plain silly (and possibly stoned) to the more incisive formal interview response, this spoken word album has been assembled in the form of a 'scissors and paste' aural collage, a style which may be familiar to fans of Frank Zappa, and which ultimately found a home on the influential White Album.
Arguably, the spoken word extracts included on this album are best understood in the context of The Beatles' place at the cutting edge of social change that culminated in the 'Swinging Sixties', against a backdrop of a straightlaced post-war Britain. Previously revered social, political and religious leaders were being challenged, or - as in some examples included here - parodied, and listening to the album as a whole, there is an underlying counter-balance between the quartet's irreverent humour and the more thoughtful snippets of considered analysis.
Sleeve note author Pete Feenstra notes of 'Magical And Mystical Words - Late Sixties': "There's almost a rite of passage being undertaken from the 'mop top' era of Epstein to the 'post-psychedelic' growinig political maturity".
Their constant humour sets The Beatles aside from the wilder image of their contemporaries (and friends), The Rolling Stones, and on the other hand, the corporate manufactured image of The Monkeys. While many acts were attracting headlines, in generally predictable ways, The Beatles manoeuvred forward in a more subtle manner, embracing opportunities as they arose, and were not afraid to push back the barriers when given the chance.
Track Listing
1. Way Out! Exit
2. You'll Never Know
3. And I Stink Too!
4. A Job To be Done
5. Double Your News
6. Everybody Flying Around
7. The Drummer Was Sick
8. Brighton To Egmorton
9. Tough Days
10. Hard Faced Naughty Boy
11. Out Of His Mouth Or Out Of His Shoe
12. What Does Ringo Expect
13. Sir Doubtless Whom