Pete Farrow "Who Says There's No Beach In Stockport"
(OZIT CD0054)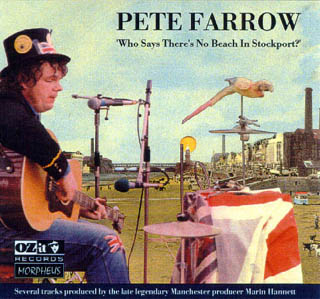 Featuring Pete Farrow and his Biscuit Tin Band.
A 23-track CD album across the whole time period of his career including detailed sleevenotes and testimonials from:
"Weep no more for here we may delight in his sweet Manchester tones..." - John Cooper-Clarke (Poet, recording artist, friend of Pete's)
"Every track is a delight..." - Mike Harding (Recording artist, broadcaster)
"What you've got in your hands is a document and a delight..." - C.P.Lee (Writer/Dylanologist and a recording artist)
"If you're not convinced about how good this guy is..." - Colin Hodgkinson, Back Door
"A new album by Pete Farrow is an event..." - Bernard Silk (Journalist)
"The music is honest..." - Trevor Hyett (TV Journalist in London, formerly at Granada TV)
Five of the tracks on this album were produced by the (late) legendary producer and visionary Martin Hannett.
Pete Farrow's music cannot be pigeonholed. Martin Hannett (usually recognised for his later work with Joy Division/New Order) chose something a little bit out of his field of production with his early production work on Pete Farrow's music. Pete's roots come from more folk and blues.
With sleeve note testimonials from John Cooper-Clarke, Martin Alcock, Colin Hodgkinson (of Back Door), journalist Bernard Silk, TV presenter Trevor Hyett.
Pete's music has crossed a lot of boundaries during his career.
Track Listing
Cripple Creek
Na Na Na Song
Take It All
Maybe He'll Make You Smile (Producer Martin Hannett – 1977)
Short Song
Hold On (Producer Martin Hannett – 1977)
Honey Babe
Old Man's Song

(Producer Martin Hannett – 1977)
Stagolee
Sailaway
Daydreamer
Solid Ground
Vestapol
Underwater Guitarist
Trouble In A Major (Producer Martin Hannett – 1977)
I Ain't Got Time
Mary's Song
Takin' Care Of Business
Running Around
Voices
Maybe He'll Make You Smile (Earlier acoustic/piano version)
Underwater Guitarist
Sailaway (Producer Martin Hannett – 1977)