Kevin Lamb - Who Is The Hero
(Kevin's Personal Tapes)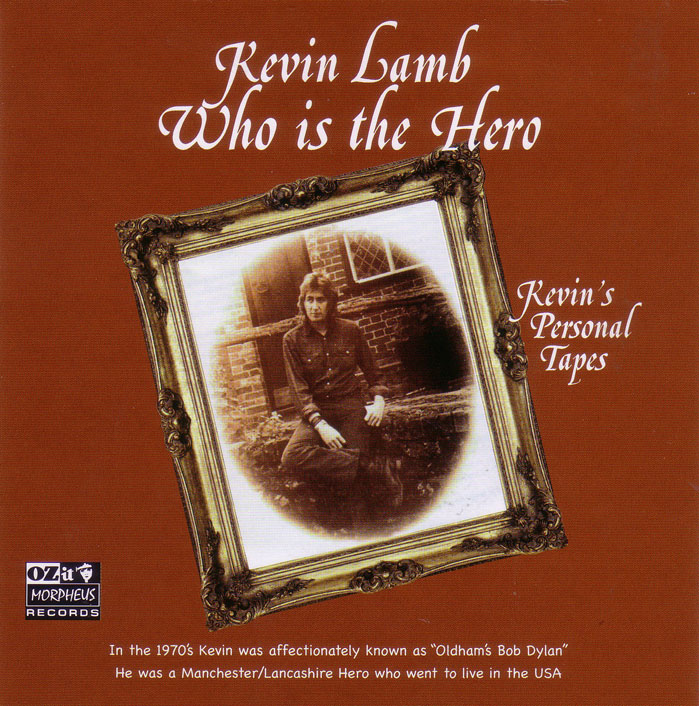 OZITCD116
Release Date: 23 August 2010
Kevin Lamb's first album from 1973 with additional previously unreleased bonus material.
Kevin Lamb hailed from Oldham and gained quite a bit of notoriety in the 1970s. Around the folk clubs and rock venues he was known as "Oldham's Bob Dylan" and after the release of "Who Is The Hero" in 1973, the title track was selected to be covered by London band Rare Bird, which led to Kevin becoming a member of the band for a while. He appeared on two Rare Bird albums and penned some songs for the band.
Kevin's other 1970s album, "Sailing Down the Years", gained him further credibility as it featured guitars by Andy Summers of The Police and Junior Marvin, percussion by Ray Cooper and pedal steel by BJ Cole.
A reviewer has said of the original version of the 11-track "Who Is The Hero" LP, "Most of the album is comprised of original songs, though Lamb does work in a nicely effective cover of Bob Dylan's "It's All Over Now, Baby Blue," featuring a very strong vocal performance, some memorably soulful organ and tastefully understated guitar flourishes. But Lamb saves the best work for last: the bittersweet, melancholic (but catchy) "Far Between The Morning" and the gorgeous "Sad Lady," a ballad worthy of Dave Cousins."
To the original album the "Kevin's Personal Tapes" version adds six rare bonus cuts.
Kevin Lamb sadly passed away in Louisville, Kentucky in March 2008.
Track Listing

1. Who Is The Hero
2. Road To Antibes
3. Last Farewell
4. Who Stole The Ice
5. It's You And I
6. Frost On The Pasture
7. All Change Now
8. Don't Sing Me No Love Songs
9. It's All Over Now Baby Blue
10. Far Between The Morning
11. Sad Lady

Bonus Tracks
12. Forsaken And Forlorn
13. In A Heartbeat
14. Killing This Beer
15. A Place In Your Heart
16. In A Heartbeat Alt Version Acoustic
17. Noteworthy Song