Back in 1992, Ozit Records started work on obtaining licenses for tapes, transcripts and previously unpublished photographs of Jim Morrison. This activity followed the discovery of the now-legendary 'Stoned But Articulate' tape of the late lead vocalist of The Doors from 1968, which created headlines in 1996 when it was unleashed on the world nearly 30 years after it was recorded (and over 25 years after Jim Morrison supposedly died).
Featuring lavish psychedelic period design, the package includes previously unpublished colour photographs of Jim Morrison taken during his (supposed) final months in Paris in 1971 plus a striking shot of his gravestone in Pere Lachaise cemetery in Paris, and photographs of fans at the graveside.
For the first time in full, Jim Morrison interviewed backstage at the 1970 Isle Of Wight Festival by a very nervous and inexperienced John Tobler for Zig Zag magazine, as well as the complete 'Stoned But Articulate' recording with, also for the first time, the original questions Morrison was asked during that interview.
Sleeve and inlay card design by Steve 'Jacuzzi' Hardstaff, who has been responsible for numerous sleeves over the years, the most notable of which were his designs for 'Led Zeppelin III' (from the time he was resident in-house designer for Led Zeppelin and their manager, Peter Grant), and for 'Grave New World' by The Strawbs (believed to be the first triple gatefold).
The lavish audio tapestry of Jim Morrison's words which comprises this double CD set will stand as an accurate and detailed summary of "where Jim Morrison's head was at" during a crucial period of his life. The quality of the recordings has been improved as much as possible to the point where they are immeasurably superior to the elderly original tapes/cassettes. Total running time of this 2xCD set exceeds 100 minutes.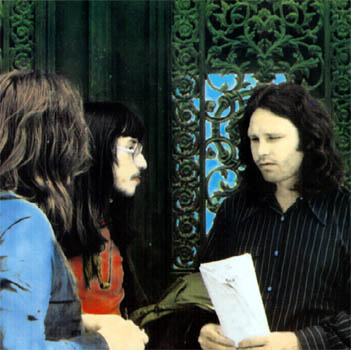 Track Listing:
CD One
1. Perceptual Notions
2. The Isle Of Wight Festival 1970 Interview (In Full)
3. The 'Stoned But Articulate' 1968 Interview (With Questions)
CD Two
1. Out Of The Unconscious
2. New Orleans… Very Strange!
3. All Day Breakfast