Nik Turner (the conscience of Hawkwind)
"Live at the Deeply Vale Free Festival 1978"
(OZIT CD 0053)
OVER 58 MINUTES LONG CD ALBUM
Five-track CD album of Nik (The Conscience of Hawkwind) Turner's legendary performance at one of the major rock events in Europe in 1978 - the unique Deeply Vale Free Festival!
Musicians on this recording (according to Nik!):
Nik Turner - sax, flute, vocals
Karina Barrat - keyboards, vocals
Hari Williamson - guitar, sarcofagus
Baggins - bass guitar
Ermanno Ghizio Erba (aka Dino Ferrari) - drums
Steffi Sharpstrings - guitar
Track Listing
The Awakening Pyramid Spell
Hall of Double Truths
Anubis
Thoth
God Rock
A beautiful colour CD booklet (by Strawbs "Grave New World"/Led Zeppelin designer Steve Jacuzzi) with many pages of pictures of Nik Turner and Deeply Vale Free Festivals and information on the roots of the Festival scene and its intermingling with the "Landbroke Grove/Mountain Grill" bands of the 70s.
This album and booklet is a MUST HAVE for every Hawkwind fan, and everyone who has ever attended Stonehenge, Glastonbury, Watchfield, Deeply Vale, Trentishoe and many other Festivals!
---
Big Amongst Sheep "Astropop"
featuring Nik Turner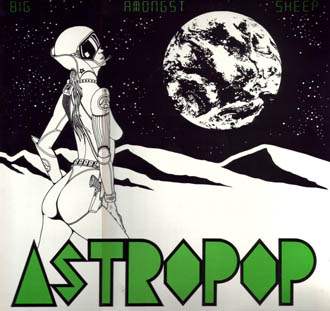 Rare 12" picture sleeve vinyl - order while supplies last!