Newspaper article: Rochdale Observer - March 1996 (excerpts)
Tractor were revered throughout the 70's with their progressive rock music, as well as playing an important part in the current music scene, with their music shop, studios, staging/event company, and their involvement with legendary Deeply Vale Free Festivals.
It all started in 1966, when Jim Milne, influenced by the surrounding beat music scene, decided to form a group with fellow Balderstone pupils Michael Batsch, Steve Clayton and Alan Burgess under the moniker The Way We Live, the name being taken from a Woman's Own Problem Page.
"Jimi Hendrix was just getting attention" remembers Jim, "And I was already heavily influenced by Clapton, Jeff Beck and of course The Beatles".
Name change
By 1970, the band were down to just two players in Jim and Steve, though they still remained enthusiastic about their music, and began recording with John Brierley, a sound engineer friend from school, up in John's bedroom.
With Jim on guitar/bass and vocals, and Steve on drums/bass, the pair recorded a tape and sent it to A&R man Clive Selwood, who at that time worked for Electra UK, a division of the American label which had the Doors, among others. (Selwood himself was responsible for sorting out Jim Morrison's death as he ran Electra's closest office to Paris).
Clive signed the band to Dandelion Records, a label that he and John Peel had started, and as the tape was essentially a home recording, Dandelion decided it should be recorded again, and mixed this time at London's Spot Studios, where Cream had recorded their debut.
The album, 'A Candle For Judith', was released in January 1971, and though it received praise from the critics, it never took off as expected. (By the way, an unplayed pristine 1971 copy fetches BP150-plus in Japan!)
Dandelion were a small label and distribution was limited. Undaunted, Peel and Selwood pushed for a follow-up, though not before a name change, The Way We Live were dead, long live Tractor (a name inspired by Peel when he looked out of his farmhouse home and spotted same!) The band released a single, and the commercially aimed 'Stoney Glory' became the first Tractor release, receiving airplay; though again its impact was minimal.
For the second album, Tractor returned to Rochdale, and to Dandelion Studios in an attic and bedroom on Edenfield Road. With John Brierley back at the mixing desk, the album was pieced together and to more rave reviews, they released the eponymous follow-up in 1972. Distributed by Polydor, Tractor had greater appeal in that it was available in the shops and the public responded to it.
By January '73, the album had climbed to No. 19 in Kid Jensen's Hot Heavy 20, as well as making the Top 30 in Virgin's album chart. Still as a two-piece, Tractor began to gig, and crossed paths with Chris Hewitt. Chris, who booked bands at Rochdale College, befriended them and became their road manager and used his influence to find them gigs. But despite significant progress, the band began to show cracks. Original sound engineer John Brierley left and in stepped The Way We Live founder member Alan Burgess. He and the band, with Chris Hewitt, set to building their own studio in Heywood, just across the road from the Dressers Arms.
Though gigs were still a plenty, Tractor became disillusioned with Dandelion Records, concentrating instead on recording and producing their own work at the newly found Tractor studios - a single was released on Jonathan King's UK Records; 'Roll the Dice' was reggae-tinged, much the flavour of the time (Ken Booth was at No. 1 with 'Everything I Own'), and though King himself highly rated the record, it flopped.
Deeply Vale
By now Tractor had all but run out of fuel. Jim, tired of gigging, was introduced to the joy of parenthood; Steve Clayton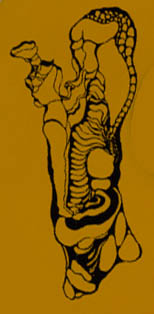 converted to arts of the canvas sort: while Chris Hewitt moved down south to a London PA company dealing with the likes of East Of Eden and Ian Dury.
And so followed a lull until 1976, when Chris, wisened from his London experience, returned to Rochdale to breathe some much-needed lift into the ailing music scene. Tractor Music was a music shop rehearsal room and PA hire business. Initially housed on Oldham Road, it moved nearer the town centre, leasing a building along with John Brierley's Cargo Studio. A lot later Peter Hook of New Order became involved when John Brierley sold out to Chris Hewitt and moved into Broadcast Video, and today of course, we know the shop as Doctor Rock, and the studio as Suite 16 (where many early Factory Bands recorded when it was Cargo).
Jim Milne and Steve Clayton began to rehearse, joined by Dave Addison on bass, and in September 1976, Tractor headlined the first Deeply Vale Free Festival.
"It was Cold", said Jim; "It was damp; it was magic!"
Despite this, however, Tractor still didn't run smoothly and for the rest of '76 Steve Clayton didn't play. But 1977 started with renewed determination, and with Steve back behind the kit, they gigged constantly, becoming regular headliners at Manchester's Electric Circus. In May they recorded 'No More Rock'n'Roll' on Cargo Records. The record, which coincided with their appearance at the second Deeply Vale, sold well, appearing in the NME alternative chart, as well as cropping up on Streets, a New Wave Independent sampler album. After the festival, Tractor stood still for the rest of the decade, emerging in 1980 with the single Average Man's Hero, which featured Tony Crabtree on keyboards.
Jamie Diffley and Chris Hewitt