String Driven Thing "The Early Years (Mark Two)"
OZIT CD 0029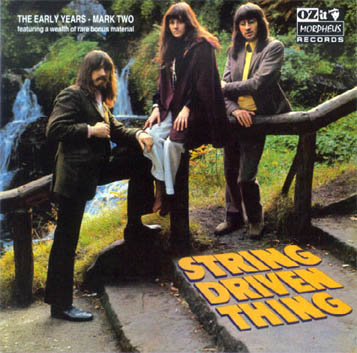 A 26-track collection of songs from 1968 onwards from Scottish folk rockers String Driven Thing. This charts their transition from the three-piece band of Chris Adams (vocals guitar), Pauline Adams (tambourine, vocals) and John Mannion (guitar) to the addition of Grahame Smith on violin and Colin Wilson on bass guitar, which, after John Mannion left, would form the basis of the line-up that signed to Charisma for the two classic albums and the legendary sacking off the Genesis' Foxtrot tour for going down better than the main band (Genesis).

This CD fills in the gap between the band forming in 1968 and the four other String Driven Thing CD albums on Ozit-Morpheus Records, "In the Studio '72" (Ozit CD 22), "The Machine That Cried" (Ozit CD 21), "Suicide Live In Berlin" (Ozit CD 18) and Chris Adams' "The Damage" (Ozit CD 28). This "Early Years" CD also contains two tracks from a reunion concert in Blackpool in 2001 featuring Chris Adams and Grahame Smith and some beautiful rare Dave Cousins - produced demos from 1969. Extensive liner notes and rare photographs in a ten-page full colour booklet complete the package.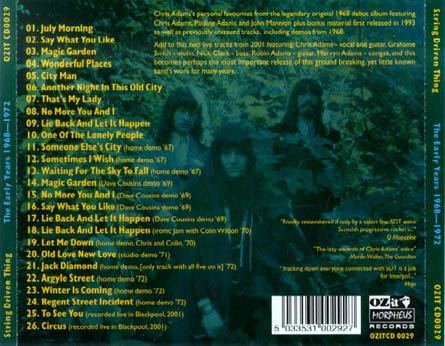 Track listing:
1. July Morning
2. Say What You Like
3. Magic Garden
4. Wonderful Places
5. City Man
6. Another Night In This Old City
7. That's My Lady
8. No More You And I
9. Lie Back And Let It Happen
10. One Of The Lonely People
11. Someone Else's City - Home Demo '67
12. Sometimes I Wish - Home Demo '67
13. Waiting For The Sky To Fall - Home Demo '67
14. Magic Garden - Dave Cousins Demo '69
15. No More You And I - Dave Cousins Demo '69
16. Say What You Like - Dave Cousins Demo '69
17. Lie Back And Let It Happen - Dave Cousins Demo '69
18. Lie Back And Let It Happen - Ironic Jam With Colin Wilson, '70
19. Let Me Down - Home Demo, Chris & Colin, '70
20. Old Love New Love - Studio Demo, '71
21. Jack Diamond - Home Demo (only track with all five on it) '72
22. Argyle Street - Home Demo, '72
23. Winter Is Coming - Home Demo, '72
24. Regent Street Incident - Home Demo, '72.
25. To See You - Blackpool 2001
26. Circus - Blackpool 2001