Sid Vicious of Sex Pistols
Probably! His Last Ever Interview - OZIT CD 0062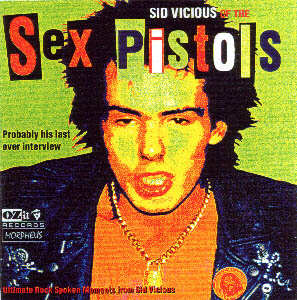 Another release in the successful "Ultimate Rock Spoken Moments" CD album series from OZIT/MORPHEUS Records!
Following on from our superb "Johnny Rotten & Sid Vicious of the Sex Pistols are outrageous and outspoken: Ultimate rock spoken moments from John and Sid" CD album, this rare "Probably! His Last Ever Interview" with Sid comes from a tape recorded by journalist Jolie Black and includes bonus material: Glen Matlock and Rat Scabies discussing Sid Vicious, etc.
Superb Steve Jacuzzi-designed booklet and inlay featuring paintings of Sid Vicious included from Ozit's resident artist Chris Daniel.
Great "Punk Era" feel to all pages of the booklet design!
---