The Fall "It's Not Repetition, It's Discipline"
OzitDan DVD 16
The only documentary film to ever examine the inner workings of Mark E. Smith and The Fall with great contributions from Mark himself and filmed over thirteen years.
Probably the nearest you will ever get to an official documentary on Mark E. Smith and The Fall...
"Put together over a period of 13 years by three Danish Fall fans and with full involvement from Mark E. Smith, this film gives a real insight into the mechanisms of The Fall. Features many live clips and rehearsals of both The Fall and Smith and Blaney. The cast list includes Mark E. Smith, John Peel (a real in-depth contribution from Peelie) Henry Rollins, Thurston Moore, David Gedge, Stephen Malkmus, Dee Dee Ramone, Peter Hook, Grant Showbiz, John Cooper Clarke, Damo Suzuki, Gary Lucas, Ed Blaney, Jim Watts, Spencer Birtwistle, Ben Pritchard, Zlatko Buric, Alan Wise, The Other Dave and Fall Fan Dave. Bonus material includes a great interview with Mark E. Smith in what was his favourite pub near Heaton Park in Manchester (sadly, the pub is now closed). NTSC Region 0. Running time : approx. 1 hr 10 min."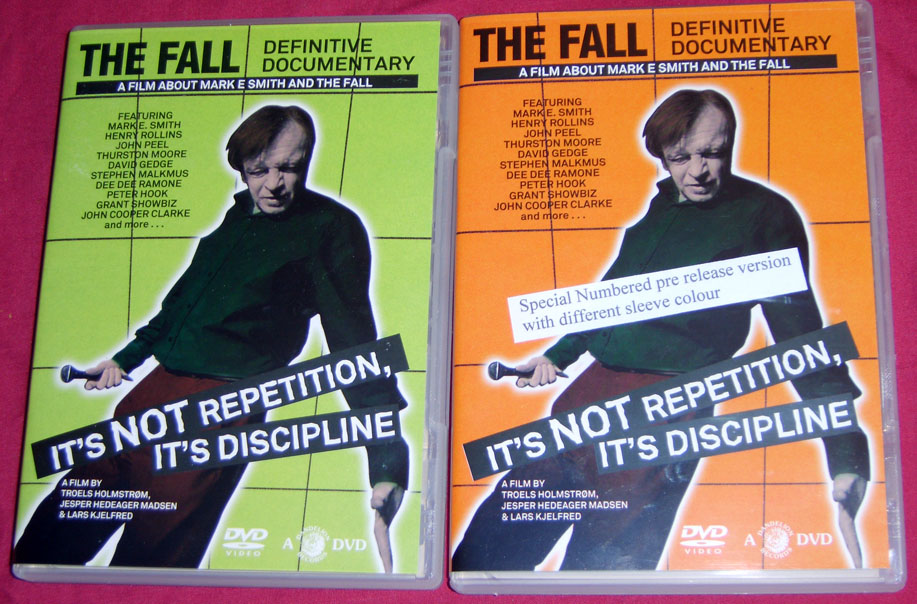 I've sat through VHS wedding videos with higher production values, but the content is gold. It feels like an amateur documentary and it is. But that is a good thing. It feels half-sanctioned, after all, Mark E. Smith is interviewed in it (in a fashion). Grant Showbiz's astute observations (whilst sitting in a living room bay window, where a postie goes about his business outside) along with various 'name' fans (Hank Rollins, John Peel, Thurston Moore) explain with articulate fawning why The Fall are so great, still so relevant. The 2004 era band try to explain what on Earth it's like working with MES... with mixed success. Still, semi-opaque insights are better than no insights at all. Oh, and there's some cool handheld live footage. And everything Mark E. Smith says comes with un-turn-off-able subtitles. Superb touch. Clocking in at just under 60 minutes, it should be on the telly, but it won't be. Buy it.
10/10
(customer review)