Tractor / The Way We Live article in RECORD BUYER AND MUSIC COLLECTOR, 2000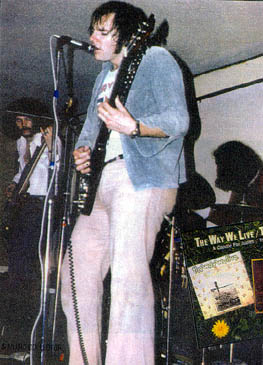 Tractor were an example of the communal living style of bands from the late 1960s and early 1970s who hung out together and made music as a result. Guitarist Jim Milne and drummer Steve Clayton formed the nucleus of an ever-shifting line-up that has continued in sporadic fashion through to the present day.

Back in '71, the band, then known as The Way We Live, signed to John Peel's Dandelion label and released their first album, 'A Candle For Judith'. The band was re-christened as Tractor at John Peel's suggestion after he'd been looking out of his kitchen window: Milne has since suggested they were lucky a muck-spreader or a hearse wasn't going past! A home studio had been financed by Dandelion in lieu of a royalty advance, and both Bob Harris and Anne Nightingale aired music from the band's second album, 'Tractor', on Radio 1. It entered the Virgin record shops Top 30 in 1972, one place above Uriah Heep's 'Magician's Birthday' but the momentum suffered somewhat when Dandelion closed. Jim Milne believes the music would have been the same had a major label been involved, "but it would probably not have led us to structure our own successful alternative label."

Bass player Dave Addison joined the cooperative in 1976 alongside Milne, Clayton and manager/sound mixer Chris Hewitt. The group played a large part in the free festival movement of the mid- to late '70s, notably the Deeply Vale Free festival near Bury which in 1976 consisted of Tractor and a few local bands using their PA. By 1978, Steve Hillage, Nik Turner and The Fall were sharing the stage with their lesser-known but highly influential colleagues. "Through the festivals we became more aligned with the underground counterculture", comments Jim Milne, who says fans bracket Tractor with the likes of Hawkwind, Can and (Syd Barrett-era) Pink Floyd. They, in turn, have influenced the like of Julian Cope and Khabbra, an Indian guitarist whose 1996 album was produced by Steve Clayton.

In 1983, came an unusual burst of publicity when the reissued 'Tractor' on the Thunderbolt label entered Sounds' Heavy Metal Chart, then a barometer of street-level popularity! The CD era brought another burst of visibility as See For Miles and then the band's own Ozit label reissued material including 'Worst Enemies', their intended third LP for Dandelion that never came out at the time.

A recent reissue of archive tracks, 'Steve's Hungarian Novel', was reviewed in the last issue of Record Buyer, while the band play on with former Liverpool Express/Merseybeats keyboard player Dave Goldberg who has been recording with the band on and off since 1980. Occasional gigs, too - a wet, cold Wednesday night in Rochdale four years ago drew a crowd of 670!

Jim Milne is now headmaster of the Liverpool school where John Lennon was first educated, while Steve Clayton writes screenplays and paints. Clayton describes Tractor's music over the years as "…honest and what we want to do, irrespective of trends. If we want to put acoustic numbers in-between heavy tracks we'll do it." And they do!