John Peel's Tractor - The Road From Townhead Mill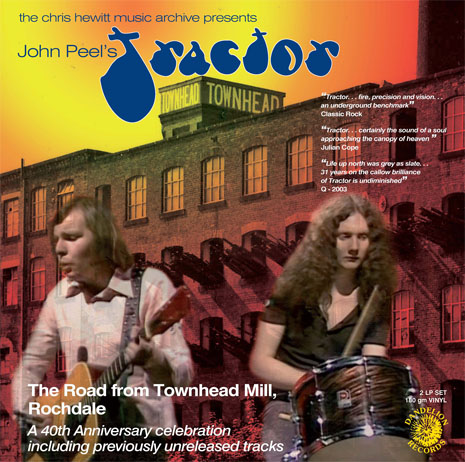 (click above for full size)
OZITDANDELION8010LP
Number of Discs: 3 (2LP+CD)
Label: Ozit Dandelion
Release Date: 1 October 2012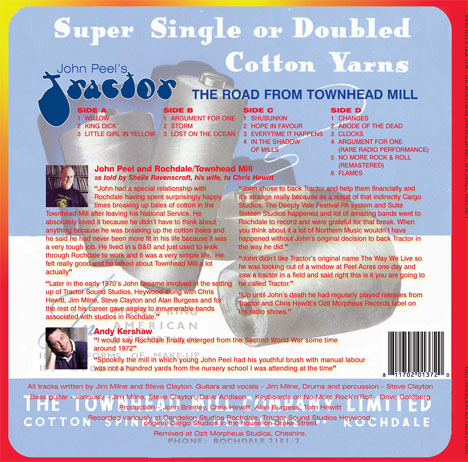 (click above for full size)
A glorious 40th anniversary double gatefold LP on 180 gram red vinyl + CD version unearths a mixture of past classics from Tractor's career and previously unreleased recordings.
40 years ago, John Peel confirmed his undying love for all things Rochdale by releasing an album and buying recording equipment for Rochdale band Tractor. Their important lineage in music history that can be traced through to Joy Division, New Order and The Happy Mondays via the recording studios and festivals they kick-started are explored on the inside of the gatefold.
John Peel's wife Sheila provides detailed comments for the back of the LP sleeve; John had worked at Townhead Mill in Rochdale in 1959, whilst future office sharer at the BBC, young Andy Kershaw, was attending a nursery school near the mill at the time. Andy Kershaw states, "I would say Rochdale finally emerged from the Second World War sometime around 1972…" - the year the first Tractor recordings came out on LP via John Peel . Rochdale was a hotbed of counterculture activity and that continued right through 'til the early nineties. In 1972, it had its own alternative newspaper and a group of sculptors, including the country's first graffiti artist Walter Kershaw. A 1972 open air festival in the town hosted Adrian Henri, Roger McGough and Linda Lewis with indoor gigs from Tractor, Bridget St. John, Hunter Muskett, the Strawbs and Brinsley Schwarz. The success of the 1972 Tractor recordings has continued to hold the band in high esteem for forty years.
Sheila Ravenscroft: "John chose to back Tractor and help them financially and it's strange really because as a result of that, indirectly, Cargo Studios, The Deeply Vale Festival PA system and Suite Sixteen Studios happened and a lot of amazing bands went to Rochdale to record and were grateful for that break. When you think about it, a lot of Northern Music wouldn't have happened without John's original decision to back Tractor in the way he did."
In 2009, two blue music plaques were unveiled on the premises Tractor used to occupy linking them to John Peel and Joy Division.

(click above for full size)
Track List
1. Willow
2. King Dick II
3. Little Girl In Yellow
4. Argument For One
5. Storm
6. Lost On The Ocean
7. Shubunkin
8. Hope In Favour
9. Everytime It Happens
10. In The Shadow Of Mills
11. Changes
12. Abode Of The Dead
13. Clocks
14. Argument For One (Radio Performance)
15. No More Rock'n'Roll
16. Flames