DVD - Tractor "Beyond Deeply Vale"
OZIT/ENTS DVD 0004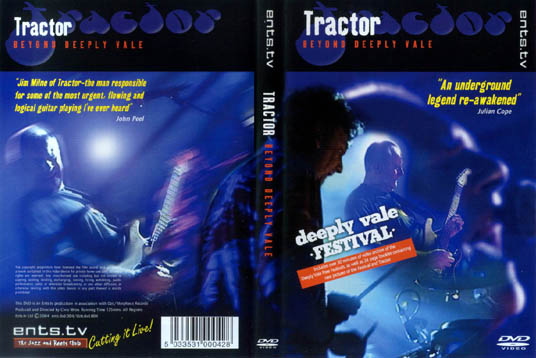 Elly Roberts reviews Tractor – Beyond Deeply Dale (www.dvdfever.co.uk)
Extras: 30-min documentary, Booklet, Slideshow, Acoustic Jam, Archive footage

On Thursday 13 May 2004, I was invited to Ozit Records owner Chris Hewitt's birthday party at the Buttermarket night club in Shrewsbury. On the bill for the celebration were three live acts: Body, Tractor, and String Driven Thing.

Tractor is a name I recall from college days. Not familiar with their repertoire, I was astounded by the broad church of their music. One minute it's folky then rocky. Both musicians are highly accomplished, and gave a dazzling display of their selected setlist for the night : Peterloo, Average Man's Hero, Roll The Dice, Lady Astorath, Illinois, Suicidal, No More, Ravenscroft Boogie, and the Asian-influenced Siderial.

Tractor began with two school friends in the sixties: guitarist Jim Milne and drummer/percussionist Steve Clayton. They were eventually signed by Dandelion Records owned by legendary BBC DJ John Peel . He once said, "Jim Milne of Tractor – the man responsible for some of the most urgent, flowing and logical playing I've heard." After two decades of just doing studio recordings, they're back on the road. In 2002 they played Glastonbury and Canterbury Fayre in 2003.

This DVD contains 30 minutes of video archive from the vaults of the Deeply Vale free festivals in a beautiful valley between Rochdale and Bury, and two Tractor sets from the Buttermarket in 2003. There's also a 24 page booklet containing rare pictures of the festival and cult 70's folk – progressive/psychedelic rock duo Tractor.

Deeply Vale was the setting for the festivals between 1976 and 1979. Initially it drew a crowd of 300, but by 1979 it pulled in an astonishing 20,000 people which built on the Woodstock spirit. Acts playing there included The Frantic Elevators (featuring Mick Hucknall pre–Simply Red) Steve Hillage, The Fall, Pegasus (later OMD) and The Ruts.

Ozit Records CD's worth checking out are : Body – The Body Album, String Driven Thing – Suicide (Live in Berlin) & The Early Years (1968–1972), Steve Hillage – Live at Deeply Dale Festival '78, The Way We Live (now Tractor) A Candle For Judith & Before, During And After The Dandelion Years.. Through To Deeply Dale And Beyond.