DVD - Tractor "Beyond Deeply Vale"
OZIT/ENTS DVD 0004
Feedback - MENSA's Music Magazine, September 2004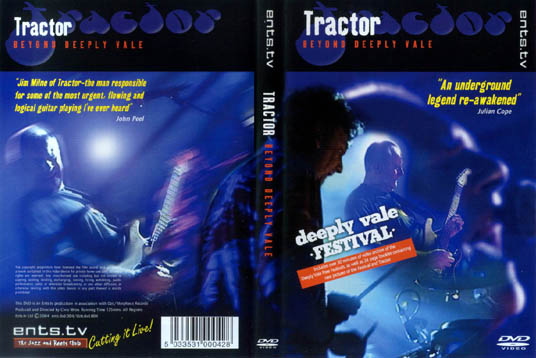 Tractor are not only a band but an important part of the musical history of the North. If it hadn't been for them, their studio and PA and, most importantly, their festival, Deeply Vale, quite a few bands may not have gotten off the ground. As well as established bands, newcomers to the stage were Mark E. Smith, The Ruts (who actually formed at the festival), Mick Hucknall, future members of OMD (in their forerunner outfit Pegasus). Tractor started life as a two-piece and when they got back together after many years apart, it was again the duo of Jim Milne (guitar, vocals) and drummer Steve Clayton.

This DVD contains two sets performed in 2003 plus a host of extras concerning Deeply Vale. For those of you who have yet to come across their debut album - shame on you, this is a great introduction to the band. All these years later, and Jim has lost none of the touch that inspired John Peel to say about him, "the man responsible for the most urgent, flowing and logical guitar playing I've ever heard!"

In many ways, Tractor have been something of a forgotten band, but this DVD shows you how powerful they are in concert. Jim sometimes is on acoustic, sometimes electric, but his playing is always full of passion, whatever the instrument, while Steve is much more than just a sidekick with a real understanding and intuition of what Jim is doing.

The extras concerning Deeply Vale are fascinating, including footage and interviews at the time (including some clips of the band in the studio) plus loads of photos, then a return to Deeply Vale by Steve and Jim as they chat to Chris Hewitt, then perform some music. There is the feeling of wanting this to be as complete a picture of the time and the people who were involved, which is really brought home by the three small pieces of film of people who have since died.

This DVD shows a great band in concert, plus some interesting musical history. There is also a 24-page booklet.