T.V. Smith "Channel Five"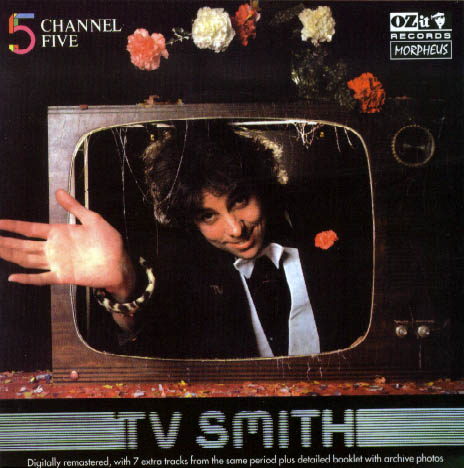 In a TIMES POP PAGE article in 1999 the following was said of T.V.Smith:
"...It is hard to think of who from amongst the first wave of British punks has disgraced themselves less than T.V.Smith - previously the singer with The Adverts."
While former members of The Sex Pistols and The Damned, et.al. have degenerated into caricatures, T.V.Smith has quietly grown in authority wihle remaining true to his misfit origins.
The main lineup for the album:
T.V.Smith - vocals, guitar
Tim Renwick - guitar, bass
Tim Cross - Keyboards, programming
Original album tracks:
A Token Of My Love
On Your Video
Dominator
London Beach
War Fever
Burning Rain
Fire In The Darkness
Cracking Up
Your Haunted Heart
The Suit
Beautiful Bomb
Additional Tracks from the same era:
Coming Round
Woodpecker
Lies
Treasure
New Ways Are Best
On Your Video (alt. recording)
The Suit (alt. recording)
Now digitally remastered onto CD, with fully detailed sleevenote article by Dave Thompson (English rock author and journalist now based in the USA) and some previously unseen photographs of T.V.Smith from the period of the album.
New Musical Express says:
"...It's essential to have people sing about what's happening in the world outside and Smith delivers the goods".
---
T.V. Smith "Channel Five" Review
Ex-Adverts leader's long-lost first solo album from 1983, "Channel Five"'s botched release just about scruppered Tim "T.V." Smith's career. Pressed on shoddy vinyl, it stayed in the shops for a couple of weeks until the record company, Expulsion, evaporated. It may have sold over 100 copies, it probably didn't. Today though, Smith has a sympathetic reissue label and so "Channel Five" is back,with seven extra tracks. Aided by two or more Tims (Cross, from Mke Oldfield's band; Renwick, later with Pink Floyd), it's vintage, albeit atypically synthesizer-led, T.V. Smith: a gorgeous voice, inteligent, articulate, playful songs and a fine-tuned sense of melody. To his immense credit and despite never getting the rub of green he's long deserved, he's still making teriffic records today. "Channel Five" won't turn things around for him, but it's a grand pleasure to see it so lovingly restored.

John Aizlewood