The Way We Live - A Candle For Judith 2003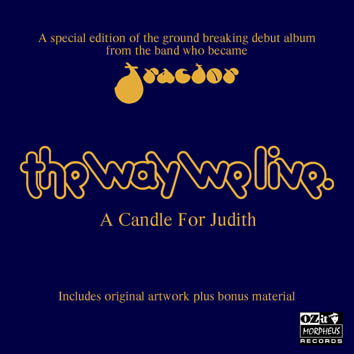 Ozit Morpheus Records CD OZIT CD 216
The definitive version of Tractor's first release for John Peel's Dandelion label 1971 with 11 extra tracks of bonus material, much of which comes from that classic seventies period, and fully biographical colour CD booklet featuring original 1971 artwork inside and many extra pages of unseen band photos and artefacts from the seventies and from their successful return to live concerts since 2001!

Track List

1 King Dick II
2 Squares
3 Siderial
4 Angle
5 Storm
6 Willow
7 Madrigal
8 The Way Ahead
9 Watching White Stars [original]
10 Marie [different mix to 1972 maxi single]
11 Stoney Glory
12 Let Earth Be The Name
13 Stairway To The Stars
14 Easier To Say
15 Most Had Man
16 Northern City
17 The Big Dinner
18 Watching White Stars [Reprise]
19 One Eyed Mule

Musicians:

Tracks 1 to 8 and 9 to 19: Jim Milne, guitars, keyboards and vocals, Steve Clayton, drums, keyboards

Some of the tracks between 9 and 19 also feature Dave Addison, and track 14 features Nik Turner [ex-Hawkwind] on sax and flute.

Available mid- to late August 2003
---
Time Out magazine back in 1971 described the original album as "Impeccable in both technique and emotion".

Q magazine in 2003 - about one of Tractor's other back catalogue releases this year - "Jim Milne of Tractor cranks gorgeous laments for unattainable love".

Kerrang - about Tractor: "Grandiose and mystical".

BBC Music Online review - about their last 2003 re-release with extra tracks: "The production is very basic and angry, but the real beauty of Tractor is that with all this going on, they still deliver that mystical vibe".
Belfast Telegraph - This semi-legendary duo recorded this fine album for John Peel's short-lived Dandelion label in 1971, and it's been a highly-priced collectors item ever since. It's now available in CD form with the addition of a generous helping of bonus material, and the entire set does full justice to Jim Milne and Steve Clayton's distinctive brand of English psychedelia.
Browse other pics from the booklet here - click on the thumbnails for full size images!