CAPTAIN BEEFHEART "LIVE 1980" (OZIT CD 4003)
REVIEW IN RECORD BUYER AND MUSIC COLLECTOR, 2000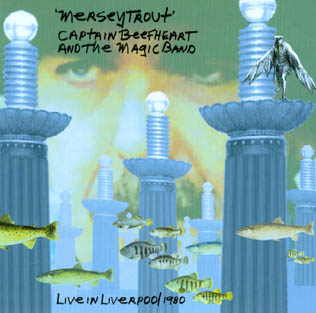 Last year's excellent boxed set, 'Grow Fins', and Mike Barnes' new biography have ensured that Captain Beefheart's profile remains as high as ever. Not bad for a man gave up music for art in 1981. Then again, some may say that Beefheart's music is art. The Captain does not have fans but 'devotees'.

'Merseytrout' is a live album recorded through the mixing desk at Rotters Club in Liverpool in October 1980. Beefheart was out on the road promoting his Virgin Records album, 'Doc At The Radar Station'. A lot of the tracks from that album are featured on this 70 minute set. There is also a treasure trail of classic material: 'Nowadays A Woman's Gotta Hit A Man', 'Abba Zabba', 'Her Eyes Are A Blue Million Miles' and 'Big Eyed Beans From Venus', to name a sweet few.

There are none of the original Magic Band on display but Beefheart never had any problem assembling class musicians to play his thorny music. This CD is not a historical document but a great live album. The band are on form as is the Captain. The audience are in quite fine fettle too, "Where's Zoot Horn Rollo, you bastard?"