The atmospheric rancour of Doctors of Madness
A Broad Abroad by Jo-Ann Greene
Goldmine, April 9, 1999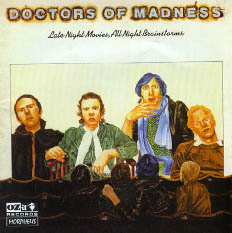 When is the long-awaited reissue of a debut album not the long-awaited reissue of a debut album? When it's the long-awaited reissue of only half a debut album, of course, and the only good thing is, it's a happenstance that American fans of the Doctors Of Madness have been expecting all along.

Back in 1975-76, before punk rock finally came along to breathe its fiery halitosis over a fast-decaying U.K. music scene, the Doctors Of Madness were one of the few bright new beacons in sight. Visually, they were cut straight from the same decadent glam cloth as Roxy Music and Cockney Rebel; musically, they were a violin-fired funeral, all delicate dirges and moping instrumentals raised to sonic immortality by a bass that thought it was Godzilla and vocalist "Kid" Strange's almost Dylanish way with words.

Of course, little of this meant anything in America, where the band's only real exposure came with a NBC documentary on how to hype a band in Britain. An inordinate amount of time and money was spent grooming the Doctors for stardom. Yet you only needed to spend a few minutes alone with their music with the lights down low and the gas turned up, to realize that bands like that had "cult" stamped all over them.

Where there was life, there was hope, however, and in 1976, United Artists decided it would be fun to take the Doctors' first two British albums, 1975's Late Night Movies, All Night Brainstorms and the recently issued Figments Of Emancipation, and pair them as one.

It was, of course, a preposterous notion. Music this intense is difficult to get through one song at a time. Presented with four sides of the stuff, it's no wonder that American youth stayed away in droves. It's also no wonder that when Polydor (Japan) decided to reissue the band's entire catalogue on CD in the early 1990s, they went with the individual U.K. pressings. The American extravagance was forgotten even before UA deleted it.

Those releases disappeared quickly. Now Late Night Movies alone has resurfaced (Ozit, P.O. Box 116, Northwich, Cheshire CW9 5UG, U.K.), and again we ask - when is the long-awaited reissue of a debut album not the long-awaited reissue of a debut album? And, more importantly, should we care? Probably not. This is Late Night Movies as it was intended to be heard. Indeed, the slight rearrangement of tracks on what was side one of the vinyl even adheres to a long-forgotten "original" vision of the album, offering lifelong fans of the band a new take on a familiar suite, and if there's any complaint at all, it's that a generous half dozen bonus tracks detract from the grandeur of the original creation.

Late Night Movies itself shudders to a close with "Mainlines," 15 minutes of atmospheric rancour and a fitting conclusion to all the horrors of the past 40-odd minutes. But the disc wanders on through a demo for one cut from the band's second album, two tracks from their last-ever gig, and three recent "Kid" Strange unplugged renditions of songs from elsewhere on the album. It's all good stuff, and it's great value for money. But... oh well, that's what the "stop" button's for, isn't it?

The world that the Doctors invaded, of course, was not to be around for long. Within a year of Late Night Movies, The Sex Pistols had taken their first steps into the light; within two years, their Never Mind The Bollocks debut had rewritten the rules for raw rock 'n' roll. And within a decade, the compact disc had come along to drain every last ounce of danger and energy out of grooves that once sounded seismic. If the creator had intended the Pistols to go digital, he'd have taught them to count.