Tractor/The Way We Live Discography
by Chris Hewitt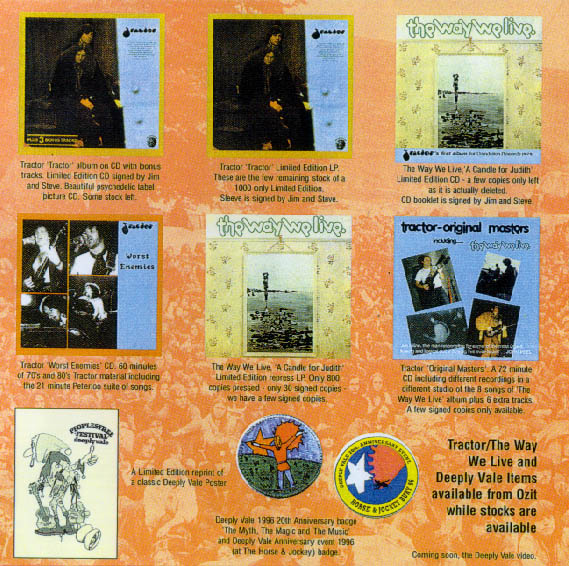 Tractor / The Way We Live Complete Discography And Items Currently Available
From Ozit Records (Tractor/The Way We Live's Current Record Company And Management):
The Way We Live "A Candle For Judith" LP 1971 with gatefold sleeve
Originally issued Dandelion Records via Warner Bros DS8004
These original copies are very sought after - none available from Ozit at the moment
The Way We Live "A Candle For Judith" LP 1997 with gatefold sleeve
Numbered limited edition issued 1997 on thick vinyl
Original style Dandelion exact replica sleeve - a few copies still available, all of which
are individually signed on the back of the sleeve by Jim Milne and Steve Clayton

The Way We Live "A Candle For Judith" CD with gatefold booklet - same tracks on CD as LP
Issued around 1992 and now deleted but we do have a few copies left
CD booklets are individually signed by Jim Milne and Steve Clayton
The Way We Live Track "King Dick II" - appears on Dandelion EP 7" Vinyl 1971 along with Principal Edwards
Magic Theatre, Stackwaddy, and Siren. This was a half-picture sleeve!
7" with a label hole in one side of the sleeve for the full colour Dandelion Flower Record Centre label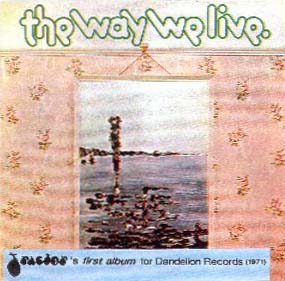 THE WAY WE LIVE (Jim Milne and Steve Clayton) also play on the 1971 vinyl LP album by BEAU entitled "Creation" on Dandelion Records.
Beau, although a folk artist, used Jim and Steve as session musicians and John Brierley (The Way We Live and Tractor engineer) was involved in the production. In particular the track 'Silence returns' contains classic Tractor/The Way We Live playing by Jim and Steve.
Tracks that Jim and Steve play on are as follows:
'9 Minutes' Jim guitars and bass Steve percussion
'April Meteor' Jim guitars Steve percussion
'Is this Your Day' Jim guitars and vocal Steve percussion
'Ferris Street' Jim guitars and bass Steve percussion
'Silence Returns' Jim guitars and bass Steve drums
'Sky Dance' Jim Electric guitars bass and backing vocal Steve drums and percussion
We do not have any copies of this album on LP at the moment – it is very rare, we do, however, have CD copies of this album with CD Booklet signed by Jim Milne and Steve Clayton.
The Way We Live - A Candle For Judith 2003 (Ozit Morpheus Records CD OZIT CD 216)
Full info here!
Finally, the 19-track definitive version of The Way We Live 'A Candle For Judith', Tractor's first ever release [OZIT CD 216] will be available as a special pre-release version which can be mail-ordered from this website by the 2nd or 3rd week of August 2003! It will feature approximately 19 tracks of Tractor's music, including the eight that were on The Way We Live Dandelion album, a new track featuring Nik Turner [ex-member of Hawkwind] on sax and flute and lots of other rare archive tracks updated, finished, remastered, etc.!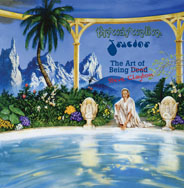 (click on the thumbnail for full size)
THE WAY WE LIVE (Jim Milne and Steve Clayton) "The Art Of Being Steve Clayton" (formerly "Steve's Hungarian Novel") - ltd. edition hand-signed double-LP red vinyl set - OZIT LP 8000.
Track listing:
Disc 1

1. Steve Clayton Pure Gut Emotion
2. Call Him
3. Now Is The Time
4. Lion's Den
5. Drunken Angels And Sad Clowns
6. Woman Of Fire
7. Who Am I
8. Laid Back Full Freakout
9. Pictures In My Almanac

Disc 2

1. Jester
2. Mine
3. On An August Day
4. Big Big Boy
5. Sun Cycle
6. The Stream
TRACTOR – 'Stoney Glory' Maxi single 7" vinyl on Dandelion Records 1972
A side – Stoney Glory B-side Two tracks – (one of many different mixes/versions of) 'Marie' and other track 'As You Say'
This was issued in a plain white paper sleeve with the Dandelion leaf logo on the record label as used when Dandelion was distributed by Polydor. We do not have any stock of this fairly rare item at the moment.
TRACTOR - 'Tractor' 12" vinyl LP on Dandelion Records 1972 DAN2310217
No copies of this album available with original Dandelion centre label at the moment
TRACTOR - 'Tractor' 12" vinyl LP in exact copy of original 1972 Dandelion sleeve issued as a limited edition repress 1000 copies only 1991.We have a few copies mint unplayed of this LP. Each sleeve has been autographed by Jim and Steve. Order now before we run out.
TRACTOR - 'Tractor' 12" vinyl LP in 'flying tractor' blue and red cover on Thunderbolt/Magnum Force label 1983-same tracks as Dandelion LP although mistake on record label side 2 only lists 3 tracks on album side 2 when there are actually 4 on it. Copies of this album occasionally available from ourselves. NB: Some copies of this album were pressed bearing an inner label (same outer sleeve) with the Record company name of BR Music - a Dutch associate label of Thunderbolt.

TRACTOR - 'Tractor' CD ALBUM with 3 bonus tracks and beautiful flower picture CD on body label. Original Tractor album plus 3 bonus tracks - Stoney Glory, Lady of Astorath and Overture which is an unfinished part of Peterloo from Worst Enemies album. Signed copies of this CD only available from Ozit Records.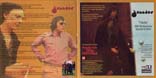 TRACTOR - 'Tractor' CD - New 30th Anniversary Edition - contains 6 bonus tracks, including a brand new track featuring Nik Turner of Spaceritual.net on sax and flute, as well as a track ("Siderial") recorded live at Glastonbury Festival, 2002.
4 out of 5 stars - ...Remarkable both for its musical fluidity and scattershot imagination... Genuinely thrilling...
UNCUT, January 2003
TRACTOR - 'Tractor'/THE WAY WE LIVE - 'A Candle For Judith' 2 albums on one CD; no bonus tracks, reasonably interesting booklet. Signed copies of this CD available from Ozit Records.
TRACTOR - 'Roll the dice' 7" vinyl single 1973 on UK Records-some copies of this single occasionally available from Ozit Records.
TRACTOR - 'No more rock'n'roll' 7" vinyl single on Cargo Records (the label linked to Rochdale's Cargo Recording Studios run by Tractor engineer John Brierley). This was the first recording that featured Dave Addison on bass guitar who continued to record and play live in Tractor until the early nineties. This single was released to tie in with the 1977 Deeply Vale Free Festival and was in the shops as well as being sold from the stage at the Festival. This was quite a succesful single gaining a review in NME as one of the first indie singles. We occasionally have copies of this rare single for sale at Ozit Records.
A shorter version of 'No more rock'n'roll' edited from the Cargo single appears on a sampler LP of indie/punk singles issued in 1977 by Beggars Banquet Records called 'Streets'.
'All ends up' from the Tractor album appears on'There is some fun going forward' a sampler LP from Dandelion. This is available as a CD signed by Jim Milne and Steve Clayton from Ozit Records.

'Little Girl in Yellow' from the Tractor album appears on 'A BOLT FROM THE BLACK' VINYL 12" LP - a rock sampler with Flying V guitar cover. We have a few mint new unplayed copies of this album signed by Jim Milne and Steve Clayton.
'WHO AM I' A-side and 'TRICK OF THE LIGHT' B-side appear on a JIM MILNE solo single 7" vinyl on the Birds Nest label. Occasional copies of this single are available from Ozit Records but a much better version of 'Who am I' appears on the CD 'Tractor - Before, During and After the Dandelion Years Through to Deeply Vale and Beyond' performed by Jim Milne, Dave Goldberg and Steve Clayton.
'Little Girl In Yellow' and 'Ravenscroft's 13 Bar Boogie' appear on a 1984 Vinyl 12" LP called HARD ROCK which is a sampler LP with Warhorse, Samson, Joy and Thunderstick as well as Tractor. Copies sometimes available from Ozit Records.
'AVERAGE MAN'S HERO/BIG BIG BOY' 7" PICTURE SLEEVE VINYL SINGLE - this single features the classic live line up of Jim, Steve, Dave Addison (bass) and has the addition of Tony Crabtree on keyboards and additional guitar. We have a few copies of this picture sleeve single left at Ozit Records - we can supply it with sleeve signed by Jim and Steve.

TRACTOR 'WORST ENEMIES' CD ALBUM. Originally issued on Sunflower Records and then remastered and issued on Ozit Records. The Sunflower copies were pressed at the Philips plant in Blackburn, Lancashire, U.K. (10,000 holes in Blackburn, Lancashire?) and suffered with discolouration so stick to the Ozit version. This album contains the complete 21-minute Peterloo suite of songs which would have formed part of a third album for Dandelion before they decided to stop investing in bands. It also contains studio versions of Lost on the Ocean and Argument for One which are real epic tracks recorded at Tractor Sound Studios, Dawson Street, Heywood, in 1973; engineered by the then-new engineer and former Way We Live vocalist Alan Burgess. No More Rock'n'Roll is also on this CD with an overdubbed Hammond by Dave Goldberg. Copies of this CD are available from Ozit Records and can be ordered as signed copies by Jim and Steve. Ozit CD0019.

TRACTOR 'ORIGINAL MASTERS' CD ALBUM. This album contains different recordings, in fact, earlier recordings of the eight songs on The Way We Live 'A Candle for Judith' plus another six previously unreleased tracks including live versions of Lost on the Ocean and Electric Witch. The eight Candle for Judith songs on this CD were recorded in 1970 in the attic studio in Edenfield Road, Rochdale, produced and engineered by John Brierley and are slightly more raw than the Candle for Judith Dandelion masters, which were recorded at Hollick and Taylor, Birmingham and mastered at Spot Sound in London. Because the band always felt more at ease in their own studio environment, Dandelion encouraged them to record in their own studio again for the Tractor 'Tractor' album. The 14-track CD album of Original Masters is available from Ozit Records as an album signed by Jim and Steve.
TRACTOR 'BEFORE, DURING AND AFTER THE DANDELION YEARS, THROUGH TO DEEPLY VALE AND BEYOND' CD ALBUM. A brand new 1998/1999 CD of Tractor/Way We Live material just released on Ozit Records - a full 74-minute album with 16-page colour booklet; none of these songs/versions have ever been released before. Can be ordered as a signed copy. Look elsewhere on the this website for extracts from the colour booklet (check the biography).
Jester
Steve's Hungarian Novel
Revolution Man
Bravado
Circuits Drawn On A Cigarette Packet
Watching White Stars
Lion's Den
About Yourself
I've Got To Be Right
Who Am I
Deeply Vale - Bring What You Expect To Find
Drilling Hundreds Of Holes In A Piece Of Hardboard
Little Girl In Yellow 6976
Sarcastic Bastard
TONY CRABTREE recorded as CRY for VIRGIN RECORDS in 1977 covering the Rare Bird number 'Sympathy' and the B-side was Tony's song 'Policeman's Blues'. This 7" picture sleeve single has an eye picture on the front cover which is quite sad considering Tony has been blind from an early age, it also came out as a none-picture-sleeve single in a Virgin green/red plain sleeve. We have copies of a few of both singles unplayed. (Tony also played at Deeply Vale Free Festival with his band Nirvana - long before Kurt Cobain thought of the name). Tony recorded and gigged with Tractor for a year or so in the early 80's as well as recording and gigging once as Milne and Crabtree (Milne on bass and vocals and Crabtree on keyboards) in 1985 at an outdoor festival against heroin use. The festival was promoted by Chris Hewitt and featured PJ Proby, BadManners, The Membranes and more.

DAVE GOLDBERG of TRACTOR had a band and 12" Vinyl LP called ONE MORE STORY. Dave wrote all the songs on the album one of which has since been covered by Ian Matthews and Jim Milne co-arranged all the guitar parts on the album although he could not be there for the recordings. We have some copies of the ONE MORE STORY LP for sale.
Khabbra "Khabbra" OZIT CD 0026 - Khabbra are guitarist, vocalist and songwriter Surinder Khabbra and drummer/percussionist Steve Clayton (of Tractor) who also produced this album. Steve Clayton wrote, produced and played percussion on a track on this album called 'Dont Blame Me' - for more information check the Ozit Records page.